TOUCH SCREEN INTERACTIVE KIOSKS
Our new line of interactive kiosks are built for 24 hour a day, 7 day a week operation. With a sleek design and battery option, you can place these wireless touch Screen Kiosks anywhere to attract customers and increase brand awareness.
Schedule time to come into our showroom or give us a call!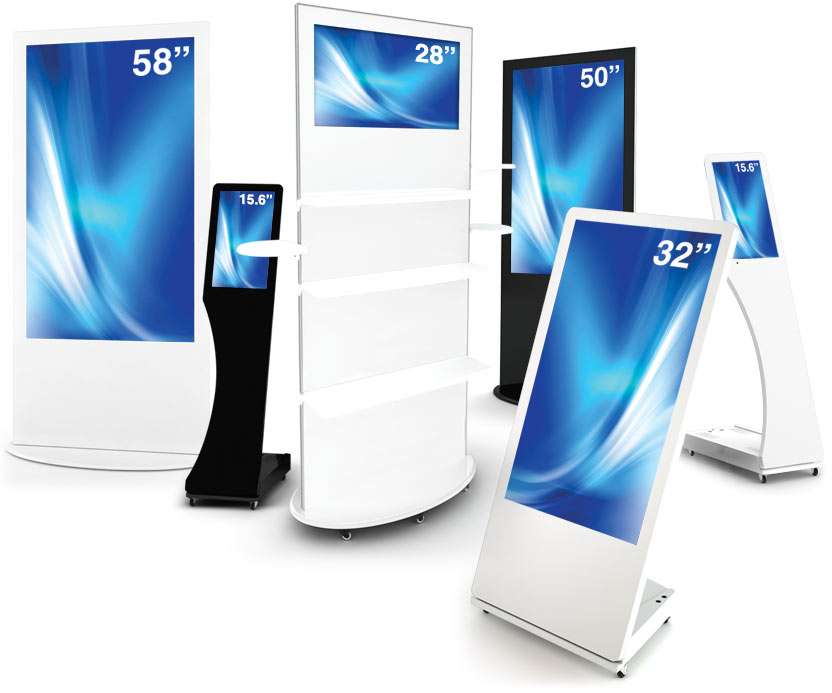 OUR LINE OF INTERACTIVE DIGITAL SIGNAGE KIOSKS
The all-new humanKiosk line of interactive kiosks is here! These touch kiosks will help increase sales and enhance your customer experience.
KEY FEATURES
A complete line of kiosks for your every need.

Commercial Grade kiosks
Interactive kiosk that are built for the rigors of 24/7 use, so you stay up and running.

Mobile
All interactive kiosks have available casters for easy relocation.

Cellular Connectivity
We utilize commercial cellular routers to ensure your connection stays up.

Installation
We supply everything you need to make the installation quick, tidy and secure.

Training & Support
Our team of Specialists in our R&D facilities are ready to help you when you need it.
Adding digital signage is a great way to increase brand awareness and increases customer engagement. If you are looking to start or expand on your visual communication needs, please send us an email or give us a call.