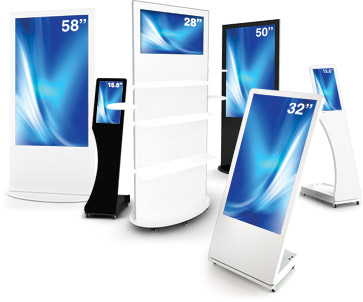 humanKIOSK
Take your customer engagement to the next level with digital signage kiosks.
We enable communication so you can effectively engage, educate and empower your audience. Each day we live and breathe this statement. For more information about our humanKIOSK line, please fill out the contact form.
Corporate Head Office
2501 Rutherford Road, Unit 33
Vaughan, Ontario
Canada L4K 2N6
US Logistics
30255 Beverly Road, Unit 200
Romulus, MI
USA 48174
R&D Office
254 Lauzon Road
Windsor, Ontario
Canada N8S 3L6
Adding digital signage is a great way to increase brand awareness and increases customer engagement. If you are looking to start or expand on your visual communication needs, please send us an email or give us a call.